Check out the latest buzz: our new Gmail chat features.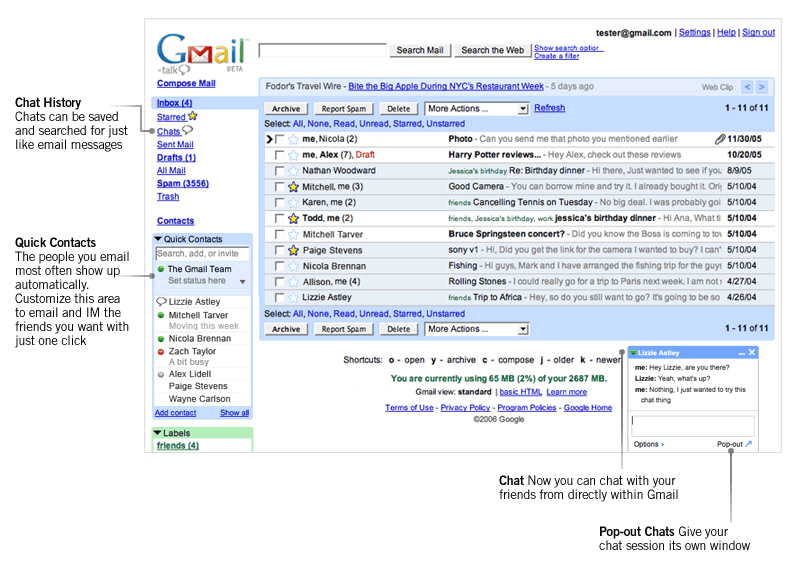 But wait, there's more...
Add contacts and invite your friends to chat from Quick Contacts
See when your friends are online
Set your status to busy, sleepy, angry or whatever. Even sneezy.
Get Google Talk to make free voice calls too. It's completely synchronized with Quick Contacts
Go off the record when you're chatting so nothing gets saved to anyone's Gmail account
Frequently Asked Questions
Gmail learned to Talk. Now Gmail accounts are automatically enabled with chat features. You don't have to do anything special, it just works. See when your friends are online and decide for yourself how you want to get in touch with them. Email and instant messaging don't have to be so different. And why should you always have to remember whether something important was said over email or IM? We've made it easy for you to save chats, so you can search for them, print them, even reply to one over email.
Well, there's the Google Talk client, which you can download to make free voice calls through your computer. And there's the Google Talk network. That's the millions of people who use the Google Talk IM service, or a service that supports open server-to-server federation to chat with each other instantly. Gmail's now on this network, which means that there are lots more people you can chat with right from your Gmail account.
3. Why'd you add chat to Gmail?
Communications these days can be frustrating. You exchange a bunch of emails with someone when really, you'd rather just get an answer instantly. You use one program for your email, and another one (or two or three) for IM. You can't remember who said what to you where. And sometimes you can't even remember who wallaby385 in your buddy list is.
Gmail's chat features address a lot of these problems. You don't have to use another program or switch between email and IM--it's all on the same interface. The friends you're already emailing the most show up in your Quick Contacts as themselves, not the cryptic IM names they chose six years ago. And you can save your chats so you never have to lose something important just because someone told it to you over IM.
Because it's there, and it just works. Maybe you're not a fan of IM or you're wondering whether you really need another IM service. That's ok, this isn't another IM service. It's still Gmail. There's nothing to load up, nothing to download (although the Google Talk client does let you make free calls through your computer). Just sign in to Gmail as you've always done. Maybe you'll start chatting with friends right away. Maybe not. But when you go to write an email and see that friend online, you might just find it easier to send an IM instead. Or maybe when you're traveling and all you have is an internet connection, you'll want to chat with someone back home. Or maybe someone IMs you an important address and you manage to find it later in your saved chats using search. You just never know when Gmail will come in handy.
When you're signed in to Gmail, you should always see a Quick Contacts box along the left of your screen. Clicking on a name in Quick Contacts will start a chat session or an email. The people you can chat with have colored balls next to their names—green means they're online, yellow means they're idle and red means they're busy.
When someone IMs you, a chat session will show up on the bottom right corner. You can chat with them right there, or pop-out the entire chat session to its own window.
You can decide right at the outset to save chats in your Gmail account, but this can also be turned on or off in "Settings." And when you're chatting, use "Options" to go "off the record."
There are no ads in your chat sessions or your Quick Contacts list. Once a chat is saved, however, it becomes just like a Gmail message. And just as you may see relevant ads next to your Gmail messages, there now may be ads alongside your saved chats. Ads are only displayed when you're viewing a saved chat, and as with all ads in Gmail, they are matched entirely by computers. Only ads classified as Family-Safe are shown and we are constantly improving our technologies to prevent displaying any inappropriate ads. One of the things many Gmail users have told us is how much they appreciate the unobtrusive text ads in Gmail, as opposed to the large, irrelevant, blinking banner ads they often see in other services, and many have even cited the usefulness of the ads in Gmail.
7. How do I save my chat histories?
When the new Gmail chat features are enabled, you choose whether you'd like chat histories saved to your Gmail account by default. You can also change this setting at any time from the Gmail "Settings" page. Saved chats are located in the "Chats" folder, where each chat is distinct, marked with the person you were chatting with and the date and time.
In Gmail, saved chats are just like email messages. They can be easily viewed, forwarded, printed or deleted. You can even "Reply" to a chat, which sends an email message to the person you were chatting with. And of course, you can easily search for a chat using keywords or the name of the person you were chatting with. With chat history saving, you never have to worry again about losing something important from your chats.
8. What does it mean to go off the record?
We know that sometimes, you don't want a particular chat, or chats with a specific person, to be saved. Most existing IM services give no indication of whether the person you're chatting with is saving your conversation. But when chatting in Gmail or Google Talk, you can go "off the record," so that nothing typed from that point forward gets saved in anyone's Gmail account.
Going off the record applies to individual people, and is persistent across chats. That means once you go off the record with a particular person, you will always be off the record with him or her, even if you close the chat window, and the two of you don't chat again until several months later. You will not need to go off the record each time you chat with the same person, but you will need to make this decision for each person you chat with. We've designed this to be a socially-negotiated setting because we want to give users full disclosure and control over whether the person they're talking to can save their chat. Learn more
Find out everything you ever wanted to know about Gmail's chat features in our Help Center.